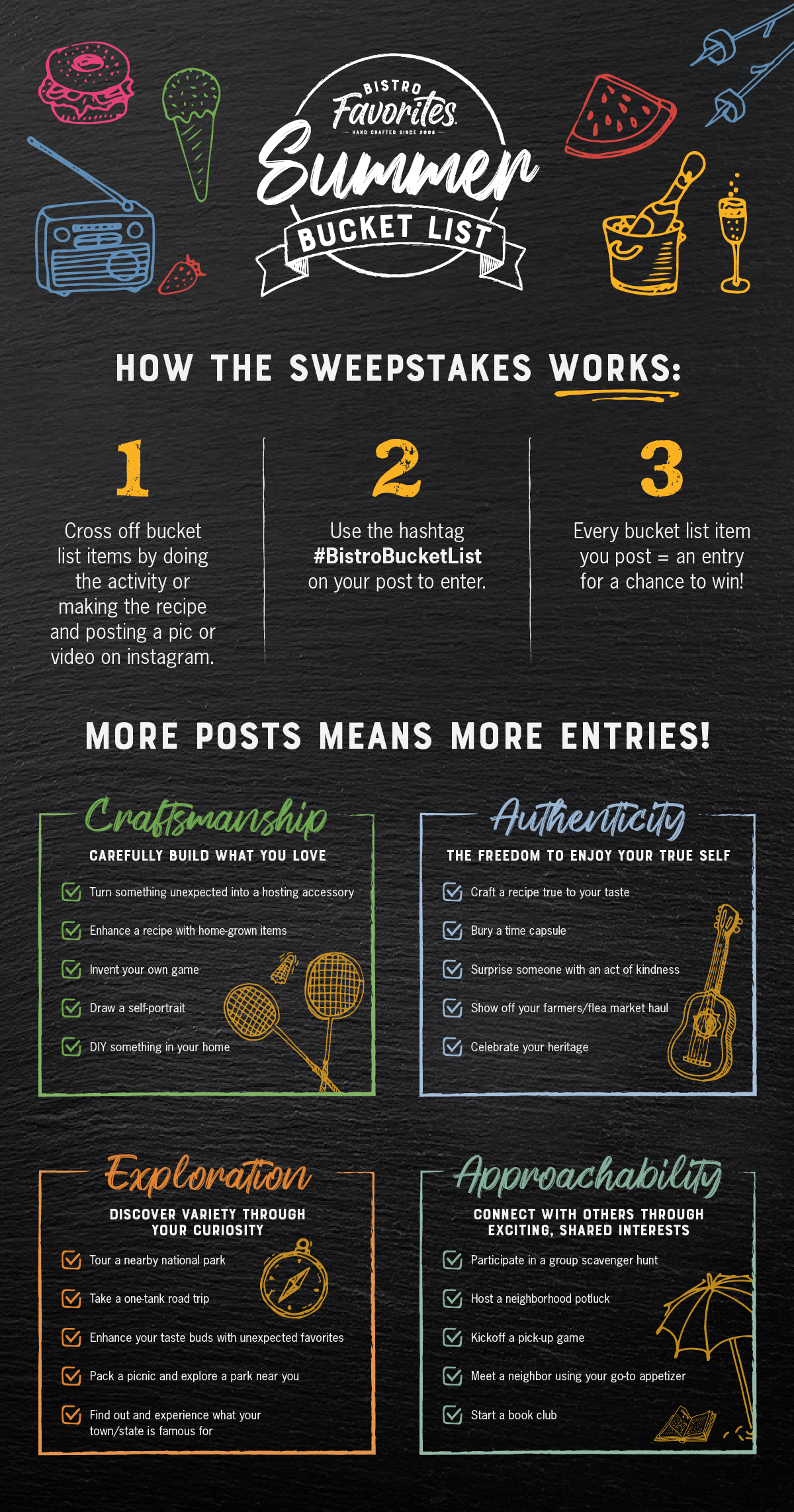 Land O'Frost Bistro Favorites / "Summer Bucket List" Sweepstakes
Official Rules
NO PURCHASE NECESSARY: Making a purchase will not increase your chances of winning a prize.You must have internet access to enter the Sweepstakes.
Eligibility: Participation open to legal United States residents residing inthe fifty (50) United States and District of Columbia who are 18 years of age or older at the time of entry, except employees of Land O'Frost, Inc. ("Sponsor"), Spoon, Fork Bacon, and their respective subsidiaries, affiliates, divisions, advertising and promotion agencies, individuals engaged in the development, production or distribution of materials for this Sweepstakes, their immediate family members (defined as including spouse, biological, adoptive or step-parents, children, step-children, grandparents, grandchildren, siblings and each of their respective spouses, regardless of where they reside) and persons living in the same households of each (whether related or not) are not eligible to participate. Void where prohibited by law.
Promotion Description: The Land O'Frost Bistro Favorites "Bucket List" Sweepstakes (the "Sweepstakes") is an online-only Sweepstakes that begins at 12:00:00 PM (ET) on June 21, 2022 and ends at 11:59:59 PM (ET) on July 31, 2022(the "Sweepstakes Period").During the Sweepstakes Period, participants must have an Instagram account and use appropriate hashtags in their submitted posts as described below. Creating an Instagram account is free but is subject to the terms and conditions at www.Instagram.com. Posting on Instagram requires a mobile device and therefore message and/or data rates may apply according to the terms of your wireless service agreement. During the Sweepstakes Period, eligible entrants must create at least one (1) post on their non-private personal account on the Instagram platform depicting the entrant accomplishing at least one (1) of the twenty (20) items from the Bistro Favorites Summer Bucket List, optionally incorporating a Spoon, Fork, Bacon / Bistro Favorites recipe creation in the photo, along with the hashtags #BistroBucketListand #Entryfor a chance to win the Grand Prize as further described below.
How To Enter: First, "follow" Bistro Favorites on Instagram at @BistroFavorites. Then, to enter the Sweepstakes during the Sweepstakes Period, take a photo depicting yourself accomplishing one (1) of the twenty (20) items on the Bistro Favorites Summer Bucket List - which can be found at the Bistro Favorites Instagram account @BistroFavorites- and post the picture on your Instagram account page, optionally incorporating a Spoon, Fork, Bacon / Bistro Favorites recipe creation in the photo along with the hashtags #BistroBucketListand #Entry (the "Required Hashtags"). Your posted photo along with the Required Hashtagsare your submission ("Submission"). Participants may submit up to twenty (20) total Submissions during the Sweepstakes Period, provided each Submission depicts a separate item on the Summer Bucket List. Each separate valid Submission receives one (1) entry into the random Sweepstakes drawing. Submissions will not be acknowledged. Incomplete Submissions are not eligible. Submissions must be posted by July 31, 2022 at 11:59 p.m. (ET) Sponsor's computer is the official timekeeping device for this Sweepstakes. By posting a Submission, you affirm that you have read, understand and agree to these Official Rules.Questions, comments, or complaints regarding this Sweepstakes must be directed to Sponsor and not Instagram.If it is discovered that a participant has attempted to enter with multiple Instagram accounts and/or under multiple identities, or uses any other method or device to enter under multiple identities, such participant will be disqualified and all entries associated with such participant will be considered void.
Submission Requirements: Any Submission for this Sweepstakes that, in Sponsor's sole and absolute discretion, is considered inappropriate, offensive or not in keeping with the Sponsor's image will be disqualified. Sponsor may disqualify such Submissionat any point during or after the Sweepstakes Period. Sponsor may disqualify a Submissionif it includes any content which, in Sponsor's opinion, is unsuitable for publication in connection with this Sweepstakes. Additionally, any Submission must comply with the following guidelines:

Submission must be consistent with the format of Instagramand must include the Required Hashtags.Any Submission that does not include the Required Hashtagswill not be eligible for the prize drawing.
Submission must be the original work of the Participant and may not include content created by a third party (other than content related to Sponsor).
The Submission may not contain material that violates or infringes another's rights, including, but not limited to, privacy, publicity or intellectual property rights, or that constitutes copyright infringement (other than material related to Sponsor).
Submission must NOT contain material which is (or promote activities which are) sexually explicit, obscene, pornographic, violent (e.g., relating to murder, cruelty, abuse, etc.), discriminatory (based on race, sex, religion, natural origin, physical disability, sexual orientation or age), illegal (e.g. underage drinking, substance abuse, computer hacking, etc.), offensive, threatening, profane, or harassing or which is otherwise inappropriate in the sole discretion of the Sponsor, nor may Submission contain any derogatory references to Sponsor or any other person or entity.
Submission may not contain personally identifiable information about the participant or any other person, such as last name, address, phone number, email address or any contact information.
Submission must not contain or transmit any materials that contain software viruses or other computer code, files or programs designed to impair, limit, interfere with or cause harm to any communications network operated by the Sponsor or the computers of any individual or entity participating in or otherwise associated with the Sweepstakes.
Submission must be in compliance with Instagram's Terms of Use.

No photocopied, mechanically, or electronically reproduced entries accepted. Any attempt by any person found to enter or in any way attempt to obtain more than the authorized number of entries will be found to be ineligible, and their entries will be disqualified. Any eligible individual participating in this Sweepstakes shall be a "Participant." Participation must be by the Participant. In the event of a dispute as to the identity of a Participant, the authorized account holder of the Instagram account used to enter the Sweepstakes will be deemed to be the Participant. Potential winners may be required to show proof of being the authorized Instagramaccount holder. If the identity of the individual who actually participated in the Sweepstakes cannot be resolved to Sponsor's satisfaction, the affected individual's entry will be deemed ineligible. IMPORTANT NOTE: Any Participant who incorporates any intellectual property owned by a third party (other than intellectual property owned by Sponsor) into theirSubmission, does so at their own risk. Further, no Participant will be eligible to receive a prize unless Sponsor determines, in its sole and absolute discretion that such Participant's Submission has been or can be sufficiently cleared for legal purposes. All Submissions are subject to the Submission Requirements. Your entry may be screened for compliance with these Official Rules, including the Submission Requirements. Sponsor makes no representation or warranty regarding amount of time it may take to screen an entry. Submissions that do not comply with the Submission Requirements will not be accepted and at all times will be subject to rejection and/or disqualification at the Sponsor's sole discretion.Submissions which violate any of these requirements will be deemed ineligible to be included in the Sweepstakes and receive a prize and the Submission will be void at the Sponsor's sole discretion. The Sponsor reserves the right to disqualify, in its sole and absolute discretion, any Submission deemed inappropriate or that does not comply with Instagram's terms of use or these Official Rules. Sponsor reserves the right to determine in its sole discretion which Submissions have satisfied the entry requirements. PARTICIPANTS MUST SUBMIT THEIR SUBMISSIONS IN ACCORDANCE WITH THESE OFFICIAL RULES. NO OTHER METHOD OF ENTRY WILL BE ACCEPTED.
Representations and Warranties/Indemnification/Release: Each Participant in this Sweepstakes represents and warrants as follows: (i) you have read, understand and will follow these Official Rules and the Instagram Terms of Use; (iii) your Submission complies with these Official Rules and Instagram's Terms of Use; (iv) the Submission is the Participant's own original, previously unpublished, and previously unproduced work; (v) you own all rights to your Submission, including, without limitation, copyrights; (vi) the Submission does not contain any computer virus, is otherwise uncorrupted, is wholly original with Participant; (vii) as of the date of submission, the Submission is not the subject of any actual or threatened litigation or claim, which adversely affects or in any way prejudices, impairs or diminishes the rights granted hereunder or the value thereof; (viii) the Submission does not and will not violate or infringe upon the intellectual property rights or other rights of any other person or entityand Sponsor's use thereof will not result in any third party obligations or liability to a third party; and (ix) the Submission does not and will not violate any applicable laws, and is not and will not be defamatory or libelous. Each Participant hereby agrees to indemnify and hold harmless the Sponsorand related entities or agents from and against any and all third party claims, actions or proceedings of any kind and from any and all claims, damages(including reasonable attorneys' fees), injuries, death, liabilities, losses, costs and expenses relating to or arising out of any breach or alleged breach of any of your warranties, representations or agreements herein, violation of these Official Rules or Instagram's terms of use, your Submission, or your conduct in creating your Submission or submitting your entry or otherwise in connection with this Sweepstakes. You waive any right to inspect or approve uses of the Submission or to be compensated for any such uses.
Grant of Rights: Participant hereby irrevocably grants, transfers, and sells to Sponsor, and each of its licensees, successors and assigns, the non-exclusive, perpetual, royalty-free, no-cost license and right to use and otherwise exploit the Submission(including all intellectual property related to the Submission) submitted as part of the Sweepstakes, and all images, text and materials therein, in whole or in part, in any manner or medium now or hereafter known or devised (including, without limitation, film, television, print, interactive devices, mobile media, Internet and on-line systems), throughout the universe and in any and all languages, including, without limitation, the right to display, reproduce, record, perform, exhibit, distribute, copy, edit, change, modify, add to, subtract from, re-title and adapt the same, to combine it with other material and otherwise use and exploit it without having to give any compensation or attribution to the Participant. Sponsor, its successors, assigns and licensees, will have the right to make unlimited derivative works therefrom, to assign or transfer any or all such rights and to grant unlimited, multiple-level sublicenses. Without limiting the forgoing, Sponsor will have the right to use the Submissions submitted as part of the Sweepstakes, and all images depicted therein (if any), in any merchandising, advertising, marketing, promotion or for any other commercial or non-commercial purpose. Participants hereby forever waive and relinquish all so-called "moral rights (droit moral)" now or hereafter recognized in connection with submissions submitted as part of the Sweepstakes. Notwithstanding that Sponsoris granted a non-exclusive license in Participant's Submission, Sponsor may also require Participant to assign all rights to Sponsor upon request. Except as may be permitted by Sponsor (e.g., through Sponsor's viral distribution tools), Participant will not, during the Sweepstakes Period, publicly display, distribute or otherwise exploit their Submission on or in connection with web sites or applications other than those of Sponsor and as required in these Official Rules. Participant must maintain the ability to assign all rights to Sponsor free of any limitations, restrictions or third party obligations. Participant agrees that Sponsor shall have the sole discretion in determining the extent and manner of use of Submissions and are not obligated to use any Submissions. Sponsor reserves the right to request Participant provide to Sponsor a written clearance document that provides written consent for any individual that appears in a Submission. Participant agrees not to issue any publicity concerning Sponsor. All Submissionsthat are posted on Instagram are available to be viewed by anyone with access to Instagram. Each Participant, by participating in the Sweepstakes, except where legally prohibited, grants permission for Sponsor and its designees to collect and use his/her name, address (city and state), photograph, voice, likenessand/or biographical material, and that of any Participant depicted in a Submission, as well as prize information for advertising, trade and other commercial and non-commercial promotional purposes without further compensation, in all media now known or hereafter discovered, worldwide in perpetuity, without notice or review or approval. Each Participant hereby acknowledges that such Participant does not reserve any rights in or to the Submission.
Random Sweepstakes Drawing / Prize / Approximate Retail Value ("ARV") / Odds: On or about August 8, 2022, a random Sweepstakes drawing will be conducted by an independent sweepstakes administrator from among all valid, eligible entries received over the course of the Sweepstakes Period. All decisions of Sponsor and/or administrator shall be final and binding in all respects. Odds of winning a prize depends upon the total number of eligible entries received over the course of the Sweepstakes Period. One (1) Grand Prize: Summer Bucket List Prize Package. Grand Prize package consists exclusively of: one (1) Airbnb stay at a location of the winner's choice. This prize element will be awarded to the Grand Prize winner in the form of a gift certificate in the amount of $2,400; $500 in gasoline, which will be awarded in the form of a gift card; one (1) waterproof camera with accessories; $100 in Bistro Favorites product coupons. Approximate retail value of the Grand Prize is: $3,000. Grand Prize winner will receive a 1099 tax form for the total actual retail value of the prize and must provide social security number as a condition of prize award.Gift certificate, gift card and coupons are subject to the terms and conditions associated with their use.The Grand Prize winner is responsible for booking his / her own Airbnb accommodations; Sponsor's prize responsibility is satisfied upon delivery of the prize gift card. In the event anyprize element becomes unavailable Sponsor may substitute a prize of equal or greater value.
Potential Winner Notification: Within forty-eight (48) hours of the end of the winner selection process, Sponsor or Sponsor's representative will attempt to notify the Participant of the potentially winning Submission. Participant will receiveaDirect Message to the Participant's Instagram Account and/or a comment on their submission within seventy-two (72) hours of the winner selection date. In response to the notification Participant must send a reply direct message to the Sponsor via Facebook or Instagram (depending upon their submission method) with their name, date of birth, complete mailing address and email address. If a Participant fails to respond to the direct message notification attempt within seventy-two (72) hours of notification attempt, or the direct message is returned as undeliverable,the potential winner will be disqualified and an alternate potential winner will be selected. Potential winning Participant will be required to sign an Affidavit of Eligibility, Release of Liability, and, except where prohibited by law, a Publicity and Advertising Consent and Release and such other documents reasonably required by Sponsor as a condition of being declared the winner and receiving the prize. All such documents must be signed and returned within five (5) days of initial notification or prize will be forfeited and an alternate potential winner will be selected. Participant may be required to provide proof of eligibility in any manner Sponsor deems appropriate as a condition of receiving a prize.Allow 6-8 weeks for prize delivery.
Conditions of Participation & Certain Restrictions: The participant is solely responsible for entering the Sweepstakes between 12:00:00 PM (ET) on June 21, 2022 and 11:59:59 PM (ET) on July 31, 2022as well as properly claiming a prize within seventy-two (72) hours of prize notification if selected as a prize winner. Prize winner must agree to certain terms and conditions related to eligibility, release of liability, and Sponsor's use of winner's name and/or likeness for publicity, advertising and promotional purposes, without compensation (unless prohibited by law) as part of the prize claim process. Noncompliance may result in disqualification and forfeiture of prize. Once aprize has been delivered to the winner's residence via delivery-confirmed mail or courier, the prize is considered "awarded." Taxes on any prize are the sole responsibility of the winner. No cash equivalents, prize substitutions or transfer of prize permitted except that Sponsor reserves the right to substitute a prize of equal or greater value in the event that an offered prize is unavailable. Acceptance of prize constitutes permission to the Sponsor to use winner's name and/or likeness for purposes of advertising and promotion without additional compensation, unless prohibited by law. By entering, entrants acknowledge compliance with these Official Rules, including all eligibility requirements. By participating, entrants agree to release Land O'Frost, Inc., Spoon, Fork Bacon,Instagram, and each of their respective parents, affiliates, subsidiaries, divisions, wholesalers, retailers or distributors or advertising and promotion agencies and each of their respective officers, directors, employees, agents or representatives (collectively, "Released Parties")from and against any and all claims, demands, losses and liabilities of any nature whatsoever, which entrant may now or hereafter be entitled to assert, including but not limited to, any death, injury, loss of enjoyment, damage to computer equipment, or other harm or loss of any nature whatsoever caused or contributed to by participation in the Sweepstakes, any of the prizes awarded in the Sweepstakes and/or in connection with the awarding, receipt and use or misuse of prize, and/or claims based on publicity rights, defamation or invasion of privacy.Winner acknowledges that neither Sponsor nor its agents have made nor are in any manner responsible or liable for any warranty, representation or guarantee, express or implied, in fact or in law, relative to any prize, including, but not limited to, its quality, mechanical condition or fitness for a particular purpose. Any and all warranties and/or guarantees on a prize, if any, are subject to the manufacturers' terms therefore and winners agree to look solely to such manufacturers for any such warranty and/or guarantee. By participating in this Sweepstakes, entrants agree to be bound by the Official Rules and the decisions of the Sponsor, which are final and binding in all respects. Sponsor not responsible for any typographical or other error in the printing of the offer or in administration of the Sweepstakes.
Internet: Released Parties are not responsible for lost, late, or illegible entries nor for electronic transmission errors resulting in omission, interruption, deletion, defect, delay in operations or transmission, theft or destruction or unauthorized access to or alterations of entry materials, or for technical, network, telephone equipment, electronic, computer, hardware or software malfunctions or limitations of any kind, or inaccurate transmissions of or failure to receive entry information by Sponsor or presenter on account of technical problems or traffic congestion on the Internet or at any website or any combination thereof. If for any reason the Sweepstakes is not capable of running as planned, including infection by computer virus, bugs, tampering, unauthorized intervention, fraud, technical failures, or any other causes beyond the control of the Sponsor which corrupt or affect the administration, security, fairness, integrity, or proper conduct of this Sweepstakes, the Sponsor reserves the right at its sole discretion, to cancel, terminate, modify or suspend the Sweepstakes and to award the available prizes via a random drawing from among all valid eligible non-suspect entries received up to the point of the action taken by the Sponsor provided a sufficient number of entries have been received. Caution: Any attempt by any person to deliberately damage any website or undermine the legitimate operation of the Sweepstakes is a violation of criminal and civil laws and should such an attempt be made, Sponsor reserve the right to seek damages from any such person to the fullest extent of the law.
GOVERNING LAW/DISPUTES: VOID WHERE PROHIBITED OR RESTRICTED BY LAW. All federal, state, and local laws and regulations apply. By participating in the Sweepstakes, Participants agree to be bound by these Official Rules and the decisions of the Sponsor, which are final and binding in all respects. All issues and questions concerning the construction, validity, interpretation, and enforceability of these Official Rules or the rights and obligations of Participants, Sponsor, or the Released Parties in connection with the Sweepstakes will be governed by and construed in accordance with the internal laws of the State of Indiana without giving effect to any choice of law or conflict of law rules or provisions that would cause the application of any other state's laws. BY PARTICIPATINGIN THE SWEEPSTAKESPARTICIPANTS AGREE THAT, EXCEPT WHERE PROHIBITED BY LAW: (i) ANY AND ALL DISPUTES, CLAIMS, AND CAUSES OF ACTION ARISING OUT OF OR CONNECTED WITH THE SWEEPSTAKES, WILL BE RESOLVED INDIVIDUALLY, WITHOUT RESORT TO ANY FORM OF CLASS ACTION; (ii) ANY AND ALL CLAIMS, JUDGMENTS AND AWARDS WILL BE LIMITED TO ACTUAL THIRD-PARTY, OUT-OF-POCKET COSTS INCURRED, (IF ANY), NOT TO EXCEED TWO HUNDRED FIFTY DOLLARS ($250.00), BUT IN NO EVENT WILL ATTORNEYS' FEES BE AWARDED OR RECOVERABLE; (iii) UNDER NO CIRCUMSTANCES WILL ANY PARTICIPANT BE PERMITTED TO OBTAIN ANY AWARD FOR, AND PARTICIPANT HEREBY KNOWINGLY AND EXPRESSLY WAIVES ALL RIGHTS TO SEEK, PUNITIVE, INCIDENTAL, CONSEQUENTIAL, OR SPECIAL DAMAGES, LOST PROFITS, AND/OR ANY OTHER DAMAGES, OTHER THAN ACTUAL OUT-OF-POCKET EXPENSES NOT TO EXCEED TWO HUNDRED FIFTY DOLLARS ($250.00), AND/OR ANY RIGHTS TO HAVE DAMAGES MULTIPLIED OR OTHERWISE INCREASED; AND (iv) PARTICIPANT'S REMEDIES ARE LIMITED TO A CLAIM FOR MONEY DAMAGES (IF ANY) AND PARTICIPANT IRREVOCABLY WAIVES ANY RIGHT TO SEEK INJUNCTIVE OR EQUITABLE RELIEF. SOME JURISDICTIONS DO NOT ALLOW THE LIMITATIONS OR EXCLUSION OF LIABILITY FOR INCIDENTAL OR CONSEQUENTIAL DAMAGES, SO THE ABOVE MAY NOT APPLY TO YOU.
Confidentiality: For information about how the Sponsor uses your personal information, please see its privacy statement, located at http://www.landofrost.com/about/privacy.html.
Winner's List: To receive name and city / state of residence of the prize winners, mail a stamped, self-addressed envelope accompanied with a signed, hand-printed request to "Bistro Favorites Winner's List", PO Box 11507, Bozeman, MT 59719-1507. All requests must be received by November 30, 2022.
Sponsor: Land O'Frost Inc., 10109 Columbia Ave, Munster, IN 46321.

Note: This Sweepstakes is in no way sponsored, endorsed or administered by, or associated with, Instagram. You understand that you are providing your information to Land O'Frost, Inc. and not to Instagram. The information you provide will be used in accordance with the privacy statement of Land O'Frost, Inc. Any questions you have regarding this Sweepstakes should be directed to Land O'Frost, Inc. and not to Instagram.

Survey Finds 74% of Americans Planning To Take A Summer Vacation Will Prepare Meals Due to Inflation/Rising Costs
Land O'Frost's Bistro Favorites and influencer duo Spoon Fork Bacon partner to keep summer filled with exploration and flavor by launching the #BistroBucketList sweepstakes
Munster, IN – June 21, 2022 – Despite rising inflation and costs of amenities like food and gas continuing, four out of five Americans (83%) say they anticipate traveling this summer, according to a new survey released today by Land O'Frost, Inc., one of the nation's best-selling brands of pre-sliced deli meats and a producer of specialty meats.
The survey, conducted among over 2,000 U.S. adults by The Harris Poll on behalf of Land O'Frost as part of its Bistro Favorites #BistroBucketList sweepstakes, found Americans are ready to have a summer resembling pre-pandemic season and are willing to find workarounds to economic barriers to do so.
Key takeaways include:
Almost half of Americans (43%) had their last vacation more than 1 year ago.
This year, 83% of Americans are planning to take a trip lasting two or more days. As part of their time off, many plan to road trip (56%) and look forward to relaxing (66%) and spending time with friends and family (59%).
Almost all Americans who plan to take a summer road trip (90%) will be packing food instead of buying it along the way.
76% of Americans planning to take a summer vacation noted they like to pack their own food instead of having to rely on finding something to eat along the way.
Americans may also be looking for opportunities to incorporate a wide variety of flavors into their summer vacation as a majority (86%) like to consume a wide variety of flavors and dishes while on vacation.
"There is an evident need for Americans to feel the freedom to enjoy traditional summer vacations again. We recognize the past several years have forced many to forgo the satisfaction of summer vacations but now is the time to re-establish everyday decadence," said Shanta McGahey, Director of Insights and Integrated Marketing Communications, Land O'Frost. "That is why we've partnered with Spoon Fork Bacon this summer for our #BistroBucketList sweepstakes. We hope our carefully curated list of adventures and recipes helps Americans reimagine what they can do this summer."
To help others have the ultimate summer, Bistro Favorites partnered with influencer duo Spoon Fork Bacon to create a bucket list sweepstakes filled with variety, fun and flavor. Consumers are encouraged to cross off as many items on the 20-item bucket list as possible, create the recipe pairings inspired by Spoon Fork Bacon and document their travels and tastes all on Instagram using the hashtag #BistroBucketList.
The more bucket list items and recipes posted, the more entries an individual will receive (limit 20 entries per person). Moreover, entrants will have the opportunity to win a worry-free vacation including a $2,000 Airbnb gift card, $500 gas card, waterproof video camera and accessories bundle worth $400 and $100 worth of Bistro Favorites coupons.
"We're eager to partner with Bistro Favorites this summer and create a season filled with carefully crafted options filled with both fun and flavor," said Spoon Fork Bacon duo Jenny and Teri. "We value high-quality experiences and great tasting, authentic recipes with taste that goes above and beyond, and are confident this will be a summer to remember thanks to these recipes and bucket list activities."
The #BistroBucketList sweepstakes is open for entries beginning the first day of summer, June 21, 2022, and will last through July 31, 2022. No purchase is necessary for participation.
About Land O'Frost
Founded in 1958, Land O'Frost, Inc. is a leading manufacturer of packaged meats and the largest family-owned brand of packaged deli meat in the U.S. Other leading brands marketed by the company include Wellshire® and Bistro Favorites®. Land O'Frost products can be found in supermarkets, mass merchandisers and natural grocers nationwide. For more information, please visit www.landofrost.com.
About the Survey Methodology This survey was conducted online within the United States by The Harris Poll on behalf of Land O'Frost from May 17 - 19, 2022 among 2,046 U.S. adults ages 18 and older among whom 1,674 plan to take a vacation this summer. The sampling precision of Harris online polls is measured by using a Bayesian credible interval. For this study, the sample data is accurate to within + 2.8 percentage points using a 95% confidence level. For complete survey methodology, including weighting variables and subgroup sample sizes, please contact LOFmergePRteam@mergeworld.com.