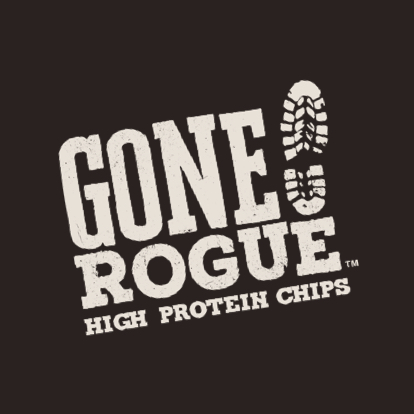 New Gone Rogue brand named a top five savory snack at the Sweets and Snacks Expo
MUNSTER, Ind. (June 5, 2018)
–
Land O'Frost
, Inc., one of the nation's best-selling brands of pre-sliced deli meats and a producer of specialty sausage products, debuted its newest brand, Gone Rogue® High Protein Chips, at the
Sweets and Snacks Expo
last month. Gone Rogue, which was recognized as a finalist for the 2018 Most Innovative New Product Award at the conference, is a ground-breaking new brand that uses a unique, proprietary process to transform high-quality cuts of meat into a crispy, shelf-stable chip.
"Gone Rogue is truly an exciting and one-of-a-kind brand for the snacking category because it combines the crunchiness of a potato chip with the protein-rich benefits of jerky," said Reggie Moore, Senior Vice President of Sales, Marketing and Innovation for Land O'Frost. "At Land O'Frost, we're always keeping a pulse on the latest trends and exploring new ways to meet the needs of our consumers. As consumers look to snack more throughout the day and get more protein in their diets, Gone Rogue provides a satisfying and convenient option."
The company previewed Gone Rogue at the Sweets and Snacks Expo in Chicago on May 22 – 24, 2018. Attendees had the opportunity to get an exclusive look and taste at the new brand ahead of the official launch later this year. During the event, Gone Rogue was also selected as a top five finalist for the 2018 Most Innovative New Product Award in the savory snacks category.
Healthy snacking has become an integral part of consumer eating habits, and nearly 50 percent of consumers say that a good source of protein is an important claim when purchasing a healthy snack.
[1]
Gone Rogue is an energy-packed meat chip that is high in flavor and delivers 17 grams of protein per serving. In addition to its protein benefits, Gone Rogue is low in carbs and has no artificial flavors.
Gone Rogue will come in single-serve packages and will be available in six bold and tasty flavors, including Teriyaki Chicken, Chicken Bacon, Honey Mustard Ham, Buffalo Style Chicken, Applewood Smoked Ham and BBQ Flavored Chicken. Consumers can find the brand later this year at mass retailers and grocers nationwide.
About Land O'Frost
Founded in 1958, Land O'Frost is a leading manufacturer of pre-sliced meats, breakfast meats and specialty hot dogs and sausages. The company is the largest family-owned brand of packaged deli meat in the U.S. Leading brands marketed by Land O'Frost include: Land O'Frost Premium® Sliced Meats, the top-selling deli pouch in the U.S.; DeliShaved® and Bistro Favorites® 100%Natural. Land O'Frost products can be found in supermarkets and mass merchandisers nationwide. Headquartered in Munster, Ind., the company operates three manufacturing facilities in Lansing, Ill., Madisonville, Ky. and Searcy, Ark. For more information, please visit
www.landofrost.com
.
[1]
Mintel Better For You Snacks Report, Sep. 2017