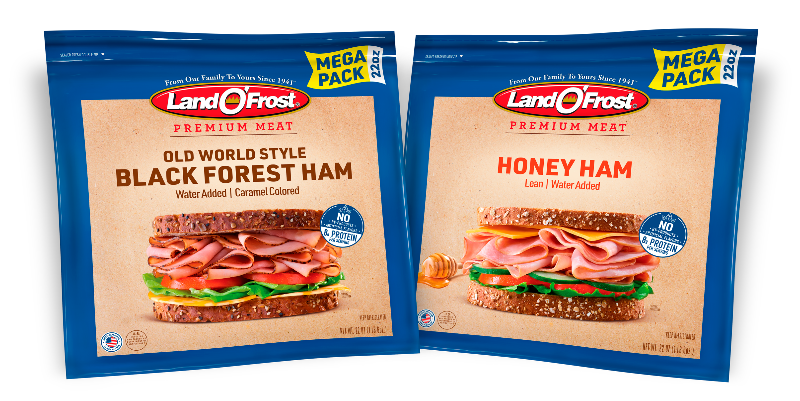 Munster, IN– April 24, 2023– Land O'Frost, one of the nation's best-selling brands of pre-sliced deli meats and a producer of specialty meats, announces the addition of a 22-ounce size to its flagship Premium Meat product line. Now, with an additional six ounces, families can enjoy more of their favorite protein-filled meats like Honey Ham and Black Forest Ham.
"We created the Premium Mega Pack to offer our consumers the wholesome deli meat their families already love at an even better value for the money," said Brandon Stephenson, Land O'Frost brand manager, "As inflation continues to impact the cost of living nationally, many families are cost-conscious and looking for the best deals when grocery shopping. The Mega Pack meets Americans where they are and delivers a great-tasting meal option without a hefty price tag."
Premium Meat is one of Land O'Frost's best-selling product lines and continues to be a leader in the lunchmeat pouch category. The Land O'Frost Premium Meat 22 oz. Mega Pack will be available at retailers across the country.
To find Land O'Frost Premium Meat at a location near you, visit https://www.landofrost.com/where-to-buy/.
About Land O'Frost
Founded in 1941, Land O'Frost, Inc. is a leading manufacturer of packaged meats and the largest family-owned brand of packaged deli meat in the U.S. Other leading brands marketed by the company include Wellshire® and Bistro Favorites®. Land O'Frost products can be found in supermarkets, mass merchandisers and natural grocers nationwide. For more information, www.landofrost.com.