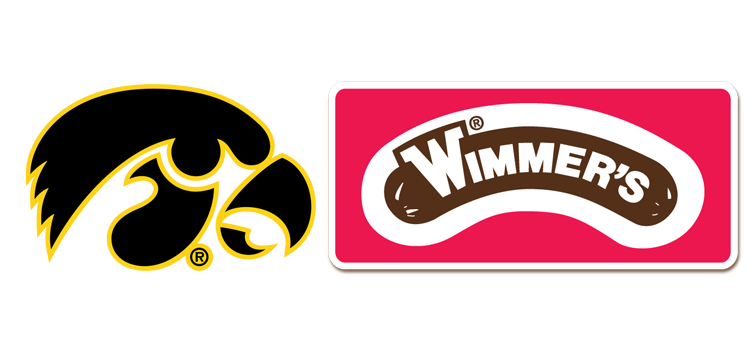 Munster, IN (August 11, 2023) -- Wimmer's Meats has been named the "Official Hot Dog of the Iowa Hawkeyes", for the eighth consecutive year. To celebrate the longstanding partnership that provides Iowa fans with their favorite game day hot dog, the University of Iowa will now provide fun and entertainment via Wimmer's in a unique way. Starting this fall, Der Viener Schlinger, an air-powered hot dog cannon, will bring Iowa fans a new and exciting way to experience their favorite hot dog at every home game.
"Wimmer's is a brand rooted in tradition and community, which is why we're proud of our longstanding partnership with the University of Iowa and our title as the 'Official Hot Dog of the Iowa Hawkeyes.' Our commitment to connecting people through pride and their shared heritage has allowed us to provide Hawkeyes fans with quality, flavorful game day hot dogs for years," said Rich Carlson, Sr. Brand Manager. "We're excited to evolve our traditions at the University of Iowa to include Der Viener Schlinger and provide fans with a fun, new way to interact with Wimmer's."
Wimmer's air-powered hot dog cannon, Der Viener Schlinger, will launch hot dogs into the sky and become the newest home game tradition in Kinnick Stadium. The University of Iowa's Spirit Squad will man Der Viener Schlinger throughout the game and fans will have a chance to catch free hot dogs. Wimmer's hot dogs will continue to be available for purchase at concession stands throughout the stadium.
"We are thrilled to continue our partnership with Wimmer's as the Official Hot Dog. Our fans make gamedays at Kinnick Stadium the best in the country and the addition of the Der Viener Schlinger will only add to the incredible atmosphere," said Matt Henderson, University of Iowa Deputy Director of Athletics.
In addition to experiencing Wimmer's at home games, Hawkeyes fans can enjoy the brand at home. Wimmer's line of products is available in stores throughout Iowa and the upper Midwest. For more information, visit https://www.wimmersmeats.com/.
About Wimmer's Meats
Founded in 1934, Wimmer's Meats became a division of Land O'Frost in 2012. Each of the Wimmer's, Fairbury, Ambassador and Bassett brands of specialty sausages is known for its unique taste and superior quality.