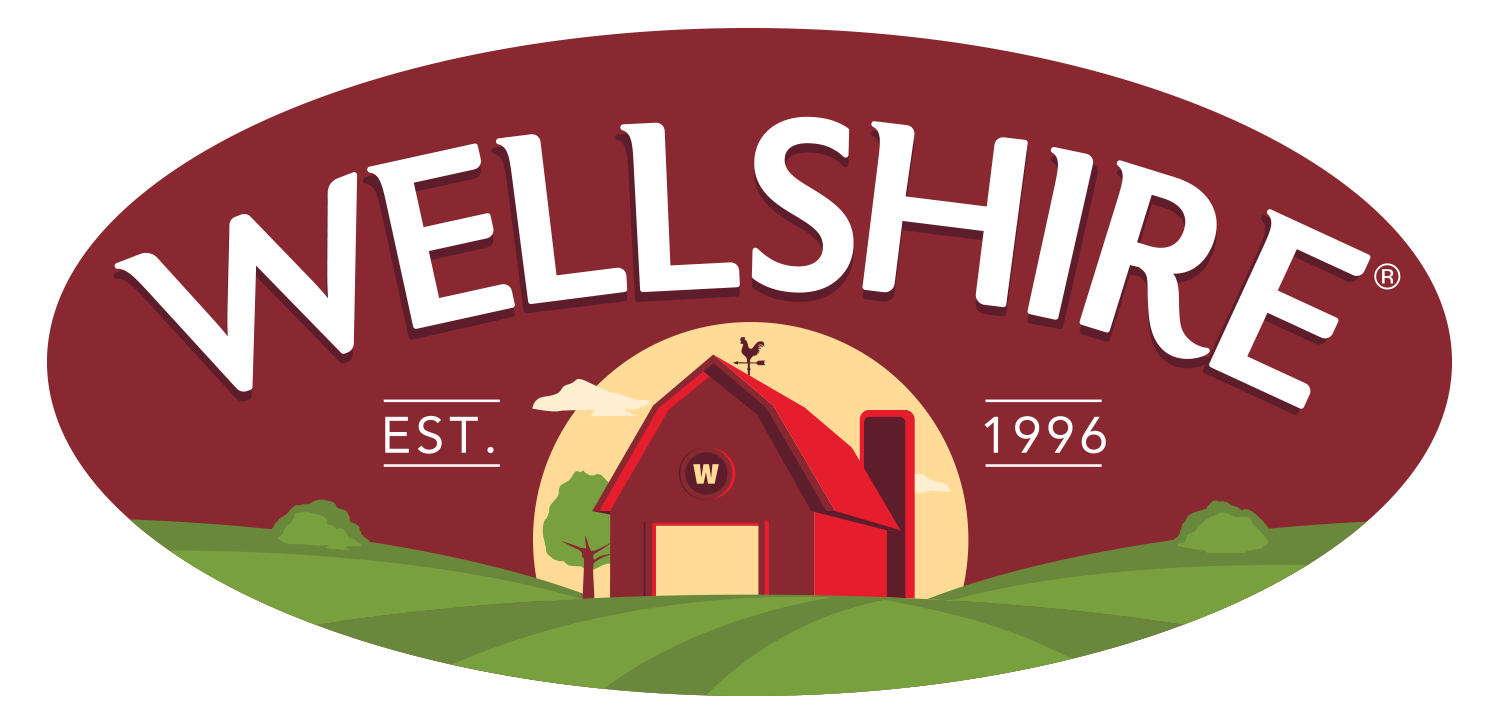 Swedesboro, NJ — August 28, 2023 — Wellshire, a leader in the all-natural and organic meat industry, is unveiling a new logo and brand identity. This is the first update of the Wellshire logo in over 10 years. The new logo is a cleaner rendition of the brand's previous logo and plays on Wellshire's dedication to simple yet quality ingredients while introducing, for the first time, its founding year. Packaging with the new logo and refined product information is rolling out exclusively at Whole Foods Market nationwide.
The new design modernizes Wellshire's logo without losing familiar traits such as the "Wellshire Maroon" color. The logo also includes the recognizable barn as an homage to Wellshire's longstanding relationships with farmers and the maintained respect for the animals they raise. The updated Wellshire logo will be prominently displayed on new packaging that has been redesigned to better call out product highlights and benefits that consumers most seek when shopping the natural meat category.
"Since we started this journey over two years ago, we spoke directly to dozens of consumers to understand how and why they consume our brand. We learned a lot about what we were doing right and opportunities to better communicate Wellshire's values and product attributes," said Jeremy B. Edelman, Director of Marketing for Wellshire. "As packaging is the most important touchpoint, we knew we needed to modernize and refine the brand yet keep it familiar so our existing consumer base can still easily locate our products. We wanted our new packaging to communicate our brand promise of 'helping families live well by eating well every day' which is why we are driven to provide our consumers with meat raised without antibiotics."
Since its start in 1996, Wellshire has been fueled by its passionate pursuit and simple mission to make quality meat products that help people live well. This prioritization has manifested into partnerships with farmers dedicated to humanely raising animals that are free of antibiotics. Today, the brand continues to produce a wide variety of bacon, sausage, lunchmeat, ham, and other specialty meats that have no preservatives and use real ingredients.
"We are excited about the new packaging and our continued exclusive relationship with Wellshire. Our customers have come to expect high-quality products and we greatly value Wellshire's commitment to delivering on this promise. We appreciate our partnership and look forward to seeing the new packaging on our shelves," said Wes Rose, VP of Meat and Poultry, Whole Foods Market.
Wellshire's new packaging will continue to reach shelves through September nationwide and exclusively at Whole Foods Market. For more information, visit http://eatwellshire.com.
About Wellshire
Wellshire is a top supplier of all-natural beef, pork and poultry products. The company produces a variety of sausage, bacon, deli and dried meat, ham, hot dogs and snacks that are minimally processed and free of nitrates, nitrites and preservatives. Wellshire products can be found exclusively in Whole Foods Market locations across the U.S. and Canada. The company was founded in 1996 and is based in Swedesboro, NJ. Please visit www.eatwellshire.com for more information.
About Land O'Frost
Founded in 1941, Land O'Frost, Inc. is a leading manufacturer of packaged meats and the largest family-owned brand of packaged deli meat in the U.S. Other leading brands marketed by the company include Wellshire® and Bistro Favorites®. Land O'Frost products can be found in supermarkets, mass merchandisers and natural grocers nationwide. For more information, please visit www.landofrost.com.